Because you're a loyal follower, I'm sending you a sneak preview of Life Lessons from a Rescue Dog. Enjoy the read.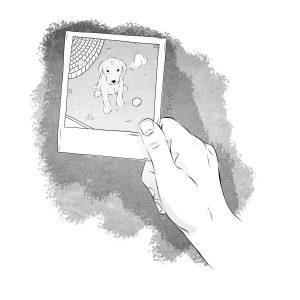 Life Lessons from a Rescue Dog 
Chapter 1
Coming Home
"The gift which I am sending you is called a dog, and is in fact the most precious and valuable possession of mankind."—Theodorus Gaza
"You can't live on a farm without a farm dog," my friend Janie declared as she stood on the front porch surveying the property like a real estate appraiser.
I wouldn't have called our seven-acre spread a "farm." It's more like a farm-ette or a country house with a sizable yard.
My ministry partner, Suki Brannan, and I had recently bid farewell to our lives in overseas work with Youth With A Mission in Hawaii and said, "hello" to a new life in the hills of middle Tennessee. We had purchased a house to continue our ministry and were adapting to the country living. In fact, we were still unpacking when Janie, a one-woman pet rescue crusader, stopped by.
Before we knew what had happened, Bailey, a two-year-old blond Labrador-mutt mix, had moved in. With long legs and almond eyes, she was a real beauty by dog standards—and ours. She had been neglected by her previous owners and matchmaker Janie decided we had the perfect home for her. Within days Suki and Bailey bonded like long-lost relatives at a family reunion.
We had settled into a routine with Bailey, when six months later, Janie stopped by the house again with photos of a new homeless pup. "You need another dog to keep Bailey company."
"No, we don't."
"Just take a look," She purred as she shoved a photo into my hands.
A puppy—with his head cocked to the side gazed into the camera as if to say, "Won't you take me home?" 
Janie knew how to set the hook. She immediately personalized him saying, "His name is Simon and he's desperate for a good home." The sub-text was: "Who knows what hardships await this adorable innocent thing if you don't rescue him."
Not again. Janie had already tried to fix us up with two cats before talking us into rescuing Bailey. I was beginning to dread seeing her car come up the drive.
"Why don't you come out to my house tomorrow? You can meet him." Janie smiled like she was flirting with a prom date.
Honestly, I don't know why we went.
Janie was sitting on the tailgate of her truck cuddling the puppy as we drove up. She held his paw in her right hand and "they" waved a welcome. We were doomed.
"This is Simon."
We looked down at the blond bundle who greeted us with a wagging tail that wiggled his whole body. I smiled. I mean who could resist a fur ball who greeted you like you were the one person he'd been waiting for his whole life?
"He's the last of a litter that needs a home. He's part Labrador and he's had all his shots. Here," she handed him to me. "Hold him."
"We already have Bailey," Suki resisted. "What if they don't get along?"
"Bailey will love Simon. She's grown and he's a puppy. She'll adopt him like he was her own." Janie had an answer for all our objections. "Labs are great dogs. They're loving and friendly—and smart. He won't be any trouble at all."
Of course not.
The little bundle of fur licked my chin and with big brown eyes seemed to be smiling. "Simon's a good name," I admitted as I handed him to Suki and he settled into her arms. 
She rubbed the white blaze on Simon's forehead as she looked him over. "He's got freckles on his feet."
"And under his chin," I added.
"We think his father was a Blue Healer," Janie said. "They're very smart dogs."
"I used to have a cat named Simon," Suki reflected. 
"Here's a leash," Janie smiled like an agent closing the deal.
I held Simon in my lap as Suki drove home. She looked at me. "What did we just do?"
The soft pup fidgeted in my lap. "I hope he and Bailey will get along," I said.
"He'll have to stay outside."
The furball whined and fidgeted again. "I know." I rubbed the wiggler's head as I tried to ease his restlessness. "It's okay, Simey (his new pet name). We'll be home soon."
Simon gave me a confused look. He was in a different car, on an unfamiliar road, with new smells and strange people. An uncertain future awaited him and he seemed anxious.
I rubbed his head again as I tried to keep him contained. In response, Simon looked at me, stood up, made a tight turn, arched his back, heaved and threw up on my jeans!
"Not a great start," I groaned.
Suki grinned. "Welcome home, little Simey-Boy."
Janie was right. After the sniffing dance which dogs perform when they meet for the first time, Bailey accepted Simon. Within half a day they were best friends and our new puppy was following Bailey around like she was his real mother. 
Simon was smart, too. He quickly learned the dog pen was his domain and settled into his new house with the enthusiasm of a college student moving into his first apartment. Once he and Bailey had established the canine code of eating etiquette, he was home and all uncertainty was gone. He had a new family and, for him, it was a perfect fit.
Becoming part of a new family can be complicated. There are always Alpha dog rituals to work through. My parents were divorced when I was a teenager and when I moved in with my dad, his new wife and her two sons, we all had to learn to dance to a new tune. 
Every family is distinct and each new person in the family adds a special dimension. Some families give the impression Norman Rockwell stepped into their living room and painted their portrait. Others seem to be living in an episode from "Halloween." However, most of our families actually fall somewhere in between those two extremes.
Did you know "family" was God's idea? Yep. He created it when He established the covenant of marriage. (Genesis 2:21-24) However, when Adam and Eve sinned, the family was the first thing to fall apart with Cain's murdering his brother Abel. 
It's the God-given built-in need for family that stirs us with a longing to belong. According to some researchers, the need for identity, protection and belonging are high on the list of why many young people join gangs. And the over-all deterioration of the family in our society unit hasn't helped.
In school, if we can't be a part of the "popular crowd," we rebel and join the anti-social clique (Isn't that an oxymoron?). We conform ourselves to fit in with our particular pack. We don the latest name-brand fashion ensembles or we dress like we barely survived a street fight. We put on the uniform and wear the colors all to fit into a "family."
As Christ-followers, we're part of a new family—the body of Christ. When we turn to God, He turns to us offering a spotless set of white clothes in exchange for our soiled suit of the past. Accepting Jesus as Lord of our lives brings us into the fold as sons and daughters of God. We have a new genetic code and a fresh look as we grow into the image of Christ. Our uniforms, while modest, vary but we do have our own "team color"—purple—for royalty.
Like Simon, we once drifted through life alone, disconnected and unsure of our future. We were helpless and ignorant until a resolute sponsor opened a door of opportunity for us and introduced us to a new family.
So, I'm inviting you to join my family. You'll fit right in. Hop in the car, but, please, don't throw up on my jeans!
***
Think about your family. Who are you? Whose are you?
For he chose us in him before the creation of the world to be holy and blameless in his sight. In love he predestined us for adoption to sonship through Jesus Christ, in accordance with his pleasure and will (Ephesians 1:4-5).
Life Lessons from a Rescue Dog is now available on Amazon. Click HERE to order your copy TODAY.