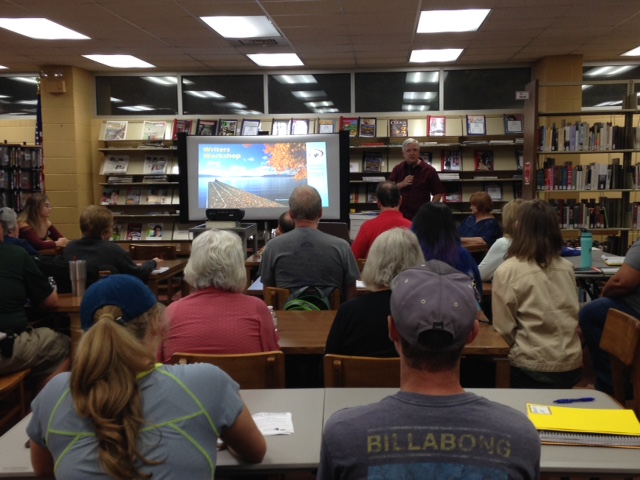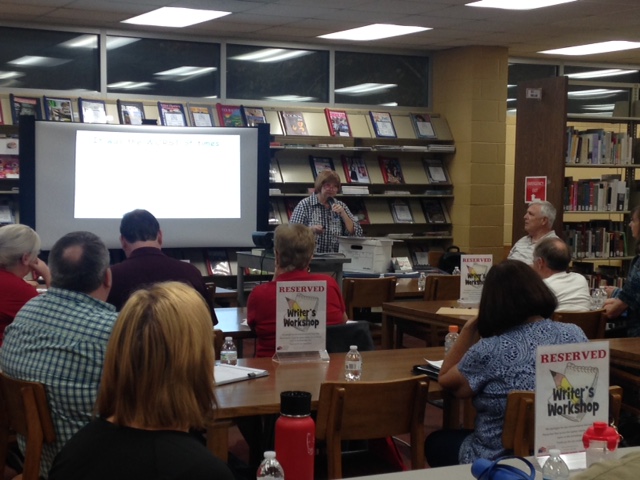 Write your story. That was the recurring theme of last week's nightly Writers' Workshop led by Scott and Sandi Tompkins in Tullahoma, Tennessee.
"Do you write as a hobby or with a sense of calling?" Scott asked the group on the first night. The class quickly understood writing is hard work requiring discipline, focus, and a willingness to rewrite–again and again. Sprinkled with humor and literary illustrations, the Tompkins' teaching covered a wide variety of topics. Some nights the focus was on writing with material covering what editors look for, how to improve your writing and how to enhance your self-editing skills. Other nights the subject matter was on publishing, writing for magazines and social media.
Many of the classes included fun in-class writing assignments that stretched everyone's imagination. Not only are Scott and Sandi a wealth of knowledge for writers, they are also gifted encouragers.
Lannom Memorial Public Library, D. W. Wilson Community Center, the Literary Club and our writers' group hosted the Tompkins for the October training sessions. Over 20 writers attended the 2-hour sessions each night at the library and the community center and I expect our local writers' group will grow because of this great workshop.
"This class has given me the motivation I needed to keep writing," said one attendee.
A member of our writers' group chimed in, "I've learned so much from them. I wish they could stay longer."
Sandi began her career working for a variety of newspapers as a feature writer and investigative reporter. Scott, too, worked as a reporter before becoming an editor for McClatchy News Corporation, serving the central valley of California.
In their notable careers, Sandi coauthored a best-selling book, Kidnapped! At Chowchilla: The School Bus Hijacking. She was also nominated for a Pulitzer Prize on an investigative piece on the DPT vaccine. Scott was part of a team of reporters who won a Pulitzer for their story on a devastating 5.6 magnitude earthquake near Coalinga, California, in December 1983.
The Pulitzer Prize membership club is a select group. Established in 1917, the Pulitzer is awarded for excellence in achievements in newspaper, magazine and online journalism, literature, and musical composition.
After 20-plus years in professional journalism, the Tompkins joined the international missions organization, Youth With A Mission (YWAM). Scott became editor of the missions' magazine, Online (later renamed Transformations) and Sandi began to lead writing schools. Since then together they have edited over 100 books and were chief editors for the Christian Growth Study Bible.
I met Scott and Sandi in YWAM. For many years I was a writer for Online Magazine working with Scott and we soon became fast friends. Besides leading workshops and classes, Scott and Sandi continue to mentor and train hundreds of other authors and essayists by leading writers' groups, and workshops. Oh yes, they are also the editors of my books, Life Lessons from the Hive, and Life Lessons from a Rescue Dog and they continue to mentor me in my work, setting me on a course for a third "Life Lessons" book.
Everyone has a story. And every story is as unique as the person telling it. The Writers' Workshop reminded us our stories are worth sharing and Scot and Sandi encouraged each of us to write ours.
So, what's your story?